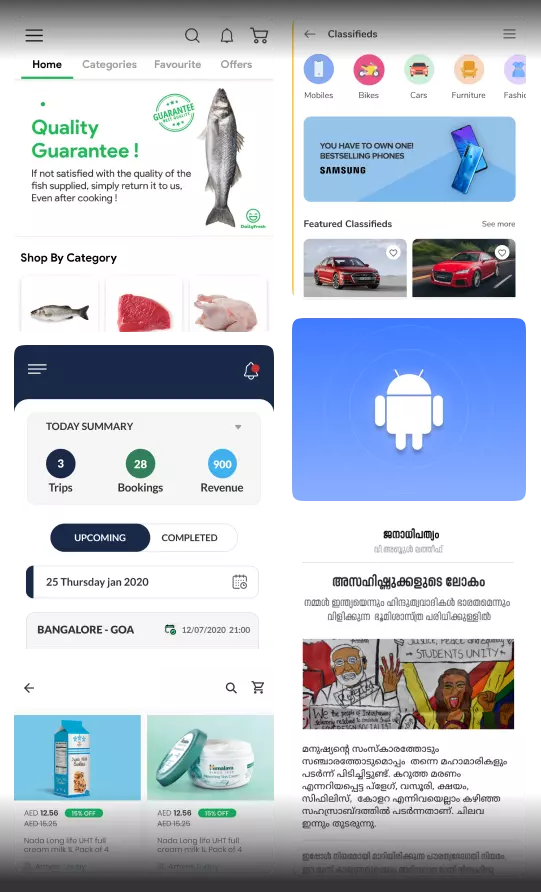 Best android app
development company
Our Android developers have a strong desire to push mobile technology to the ultimate level. They collaborate with multiple teams of designers, architects, and business analysts to create and build the next generation of our android applications. We have come up with some unique approaches in the Android app development process. These approaches overcome the weaknesses of the common Java architecture and kotlin to make our Android applications faster. The QA team further ensures that this speed is consistent across all devices. The close tie-up with the UX team makes our Android mobile apps flawless and memory efficient. By developing the UI specific to the Android framework, we bring a great feel and usability to our apps. So the users can close, open or switch between apps anytime and anywhere. Our close team of Android developers pick up every such point in mobile app development. By adding up such tiny points, we present you an Android app of the look and feel you expect.
Our android app development services
Our developers study android applications from multiple perspectives to breathe life into them. By modifying and customizing UI/UX, ensuring multi-platform compatibility, comparing quality benchmarks, etc, we approach the android app development process from end-to-end to offer you the following top-notch services:
Clarity is the magnetic force that brings users more and more into an android application. Our designers are highly skilled in creating clear and simple interfaces for your android app.
UI/UX for Native Android
Get easy-to-scale, easy-to-launch custom solutions for a quick change in your business performance. We deliver android app development services at lightning speed.
Custom Native Android apps
Bring rapid transformation to your workspace with android web apps. Easy to use and install, it will make things work for you better.
Native Android Web-App
We provide support services for android apps to keep them up-to-date. From minor updates to bug fixes, we provide a wide range of native android app maintenance services.
Support & Maintenance
Testing for quality is at the center of android app development. Every android app we develop is put to stringent quality standardization checks and passes intensive testing use cases.
Native Android App Testing
Why Native Android App development?
The Agile development process redefines android app development cycles in a new light. It simplifies the project outline and reduces the time that is usually lost in path-correction. Being a comprehensive approach, it brings the client, developer, designer, analyst, tester, etc. on a single table. Get the gist of our android application development cycle:
Requirement Analysis
It is the initial step in the android development process. Here, the idea is devised and developed. After a clear understanding of the idea is received, we move on to analyze the cost that will be incurred for building the app and also map out the audience span for the app
Wireframing and designing
The subsequent step involves thorough research of the idea and client consultations after the analysis. After a deep and detailed understanding of the idea and its various aspects are received, developers start creating user-friendly designs that match the idea.
App development
This is the step where the actual developing part starts. Developers code the app and layout its main sections to provide client's with a draft that will help them understand how the app will look. After the draft is designed, clients will review and give feedback that can be incorporated into final product.
Android App Testing
In the final step, the app is tested and retested to make it 100% bug-free. After all the tests and trials runs are done, it is passed on to the client to get the final approval.
Wish to build your dream app
but confused about the platforms?
Let's Connect
We build mobile application solutions
Enhance your online presence with a splendid Mindster app. Years of experience in mobile app development will ensure the finest product
What our customers speaks about us
We are experts in various frameworks and always ensure to stay on top of the changes in technology.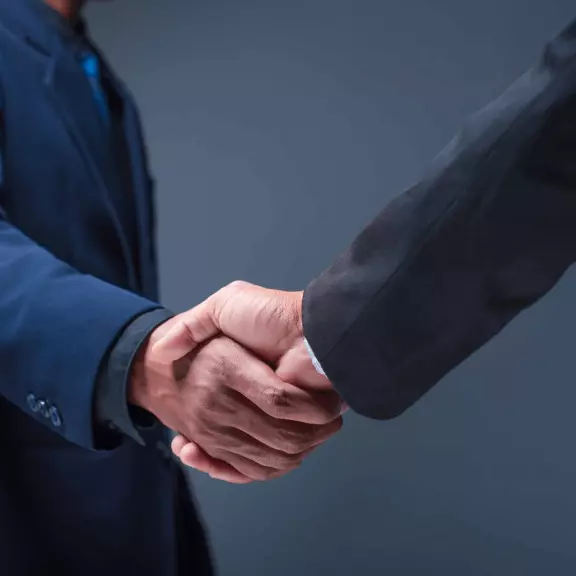 "They have been able to already demonstrate their expertise by implementing key processes for the Space Research Institute in Saudi Arabia. It illustrates that our partner program enables companies all across the globe to quickly adopt and master Intalio| BPM. We are looking forward."
Arnaud Blandin
Vice President Alliances,
APAC Managing Director, Singapore
"With Mindster's team of talented people, one will have peace of mind as all his requirements will be met and delivered on time with excellent quality. We experienced that at the time we had to produce a complex mobile App for one of our projects in Africa. Sure, we are looking to partner with them in projects to come."
Georges Courson
IT Consultant, EdenRed,
Middle East and Africa
"We are a trusted partner with Mindster since 2004 for implementing portal and automating many internal processes. We are really delighted with the technological excellence, consistent performance, flexibility, and support offered to us as a reliable IT Partner."
Gerry Mitchell
Chief Officer Information Technology, Oman Air, Oman
"We are really pleased with the business relationship we have with Mindster. Their service is highly dependable, friendly, and open over the years. They pay high attention to detail and are always willing to listen to our requirements which is extremely important to our company."
Azaam Fashir
Operations & Groups Manager,
Saudi International Travel Agency, Saudi Arabia
Thanks to Mindster's hardwork, the solution was delivered succesfully, making the client satisfied with the results. The team was highly efficient in creating designs based on the client's requirements.
"Their project management must be greatly applauded."
Igor Kikena
CareCrown- Nashville, Tennesse
Frequently asked questions (FAQs)
Kerala
Mindster
SBC Unit 4, 4th Floor
Sahya, Govt. CyberPark
GA College P.O, Calicut
Kerala-673014, India
+91 95260 15617
sales@mindster.com
Bangalore
Aufait Technologies Pvt.Ltd
#39, NGEF Lane, 2nd Floor,
Suite No.1322, Indiranagar,
Bangalore, Karnataka,
India 560 038
080-25043353
sales@mindster.com
Dubai
#310, Al Safa Tower
Near Emirates Tower
Metro Station
Sheikh Zayed Road
Dubai, UAE
+971 55 5039693
sales@mindster.com
USA
1321 Upland Dr.
Suite 7206
Houston
TX 77043
United States
+(551) 295 8311
sales@mindster.com
Have queries? Talk to us and get your idea moving
Let's help develop your apps